You are currently browsing the category archive for the 'Environmental Standards' category.
You want to win a prize in a writing contest in social science in which contributions written like an academic paper will not be accepted? Pay attention to the following call for articles: The International Human Dimensions Programme on Global Environmental Change (IHDP) invites young scholars to submit texts on Sustainable Development Goals and their human dimension, be it political, technological, economic, or social.
Prizes are US$ 500, US$ 200, and US$ 100 and the three winning pieces will be published in the in-house magazine Dimensions.
The deadline for submissions has been extended to May 15, 2013.
Last week, I attended a very interesting conference organized by Jean-Christophe Graz, Christoph Hauert, Marc Audetat and Danielle Büschi at the University of Lausanne in Switzerland. At this conference, the prospects and limits of participation of civil society in international standardization were not only assessed by leading academics working in the field but also by members of various NGOs, including consumer and environmental organizations operating at the national and transnational level. The conference was part of a research programme at the University of Lausanne called "Living together under uncertainty" which has the aim to reinforce the relationship between academic knowledge and civil society. The INTERNORM project is trully transdisciplinary in the sense that Helga Nowotny understands the term: bringing together different types of knowledge from academics and practitioners for democratic problem-solving in the global sphere. The conference was one of the rare moments where academics and pratictioners engaged in really productive intellectual inquiry into how problems of standard-setting are framed, organized and managed in various national and transnational arenas. It also turned out to be a very cross-fertilizing event between the French and English-speaking communities in this field. Discussions revealed the many still persisting obstacles created by technical standard-setting organizations which make it difficult for civil society actors to participate on an equal footing. Yet, discussions also pointed to the strategic capacity of transnational and European NGOs to coordinate effectively across borders and to set their priorities in ways to enhance their leverage and influence. The presentations of the conferences are available on the INTERNORM project website.
(sigrid)
At this year's Annual Meeting of the American Sociological Association from 16 – 22 August in Denver/Colorado, the Section on Global and Transnational Sociology featured a number of highly interesting panels and pre-conference activities. Panel topics included Global Governance (co-sponsored with Sociology of Law), Transnational Processes and Institutions, Gender, Globalization and Transnationalism, and Transnational Networks. In addition, a pre-conference meeting, organized by Peggy Levitt and Liz Boyle, discussed new ways of seeing and knowing in transnational and global research. At the Denver meeting the outgoing chair  Sarah Babb concluded her highly successful term of office and welcomed the new  chair Julia Adams (see interview). Read the rest of this entry »
I would like to use our blog to draw our readers' attention to a mini-conference that I organize together with Tim Bartley, Nicole Helmerich and Chikako Oka titled "Regulating Labor and Environment: Beyond the Public-Private Divide". The mini-conference will take place in the framework of the 2012 Annual Conference of the Society for the Advancement of Socio-Economics (SASE) at MIT (Cambridge, Massachusetts, USA) on June 28-30, 2012.
The central question that we would like to address during the mini-conference is what the implications of global shifts and transnational standards for domestic regulatory projects in labor and environmental fields are. On the one hand, we invite papers that seek to explain how local contexts shape implementation and effectiveness of labor and environmental regulation in a globalizing world. On the other hand, our focus is the intersection between public and private forms of environmental and labor governance. To sum up, we seek to examine transnational-domestic and private-public links in transnational labor and environmental governance. Read the rest of this entry »
This post is provided by our "guest blogger" Elke Schüßler. Elke Schüßler is postdoctoral fellow at the Department of Management at Freie Universität Berlin.
The 17th climate summit in Durban has just concluded and the target of developing binding decisions for greenhouse gas emission caps post-2012, when the first commitment period of the Kyoto Protocol – the "only game in town", as it is often called inside the climate policy community – will end, has moved further afar. The main outcome of a uniquely long and strenuous negotiation process in this South African city was to postpone the development of such a treaty to 2015.
In a previous blog entry, Leonhard Dobusch and I have analyzed the role of music industry conferences as so-called "field configuring events" and the role they play in the contestation and possibly innovation of copyright regulation. Together with Bettina Wittneben (WiSE Institute) and Charles-Clemens Rüling (Grenoble Ecole de Management), I am conducting a similar analysis of the role of climate summits in the field of international climate change policy.
This field was established by the Rio Earth Summit in 1992, and has since been marked by a series of international policy conferences carrying forward the United Nation's climate change negotiation process: the annual 'Conference of the Parties' (COP) together with a series of mid-year 'Meetings of the Subsidiary Bodies' (SB) held in the context of the United Nation's Framework Convention on Climate Change (UNFCCC). Recent research has underlined the role of international conferences as "catalysts of change, especially as organizations and governments struggle to develop global solutions to complex problems" (Hardy & Maguire, 2010: 1358). Read the rest of this entry »
A recurrent topic across most fields covered here at governance across borders is standards. In the field of environmental standards, for example, Olga repeatedly discussed how transnational standards and local practices are interrelated (e.g. "From Transnational Standards to Local Practices"). In the field of copyright regulation, many posts deal with the issue of standard proliferation (e.g. "Money Buys You Standards?") and diffusion (e.g. "Iconic Standards: Regulating and Signaling") in the case of Creative Commons.
But as always, at least in our recurrent series "Wise Cartoons", all our words cannot live up to the simple wisdom of illustrations such as the one provided by XKCD below: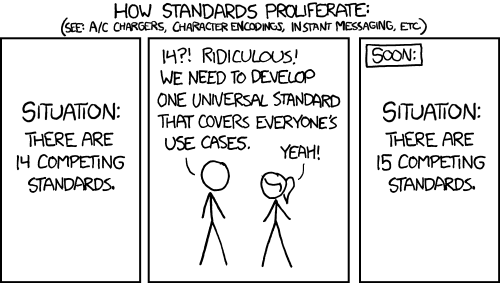 (leonhard)
PS: For another wise cartoon on standards that features Scott Adam's Dilbert check out "Google Books and the Kindle Controversy".
In late May, the Max Planck Institute for the Study of Societies published my paper on the implementation of transnational voluntary forestry standards in Russia in its discussion paper series (From Transnational Voluntary Standards to Local Practices: A Case Study of Forest Certification in Russia. MPIfG Discussion Paper 11/7). In the paper, I attempt to deconstruct the process of implementation and suggest that the current literature has paid little attention to two social processes that accompany – or even constitute – the implementation of transnational voluntary standards: collective learning and stakeholder interest negotiation. Basically, I argue that previous research examines carefully various factors that explain why certain companies in certain countries commit to voluntary environmental standards, but has so far mainly assumed that once standards are adopted, the improvements in practices will occur (if there is a gap between standards and practice, which is most often the case, as some research shows). Instead, I suggest that implementation should not be taken for granted and propose a framework for understanding how companies and activists translate transnational voluntary standards into on-the-ground practices, particularly in a difficult context of non-advanced industrial countries. Empirically, I apply this framework to the analysis of the implementation of the Forest Stewardship Council's forestry standards in Russian forest enterprises. Read the rest of this entry »
The following video is a trailer of an ethnographic film that arose during the course of my PhD project at the Max Planck Institute for the Study of Societies:
The implementation of the EU's main nature conservation program, Natura 2000, has more side effects than Brussels' bureaucrats envisaged. Two village communities own common forests and pastures in Natura 2000 protected areas – one located in Vrancea Romania and the other in Galicia, Spain. Both are struggling to defend their rights to access natural resources, vital for the local economy. However, communities are not homogenous and different discourses get shaped during the village assemblies where people seem to prime their immediate needs.  Culiţǎ, a 45 year old forestry worker, and Henar, a Galician farmer, build on the collective memories of disspossetion an active resistance behavior against the EU's Natura 2000 program. Yet, the makeshift ethos in the first community, and the demographic decline in the second seem to lead to the failure of a coherent collective resistance.
(liviu)
About 10 months ago, I posted an entry on the Deepwater Horizon catastrophe in the Gulf of Mexico, in which I outlined three scenarios that I thought were likely to occur after the Deepwater Horizon crisis. They can be labeled as no regulatory consequences, stronger public regulation and new private regulation of safety in the oil drilling industry. Today, exactly one year after the explosion of the BP's oil drilling rag in the Gulf of Mexico killing eleven people, I have to admit that the Deepwater Horizon did not become the beginning of the new regulatory era for the oil industry. Read the rest of this entry »
Interdisciplinary workshops are always a good opportunity to discuss and exchange differences and shared perspectives on a common empirical research field. Such a workshop ("Transnational private regulation in the areas of environment, security, social and labor rights: theoretical approaches and empirical studies") took place in Berlin, at the Freie University, at the end of January. Researchers of various backgrounds including sociology, international relations, industrial relations,  organizational studies and political science came together to discuss global developments and its local implications of transnational private governance in various empirical fields (labor standards, environmental standards and security)
The role of transnational companies and private actors in governance beyond borders is approached and conceptualized from a variety of theoretical and empirical angles. A shared language and common understanding has not yet fully emerged. To start this interdisciplinary exchange across different governance fields three set of questions have been discussed at this workshop: Read the rest of this entry »